How Do You Avoid An Event AV Disaster?
Before planning AV for your next event, watch this webinar to avoid these major disasters!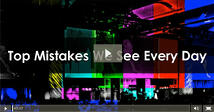 Industry expert and president of Endless Entertainment, a Phoenix-based event production company, Will Curran walks you through the top mistakes that Endless sees every day that can lead to AV disaster.
In this webinar you will learn about the top mistakes that can lead to an AV disaster including topics such as:
Understanding power and electricity at your event
Negiotiating contracts
Understanding your AV quote
Importance of tech riders
Video content and its intergral part of your event
Vision alignment of your AV team
Know what you need to make your vision a reality and sign up for our webinar today!
Endless is trusted by the best events
Endless is featured in the biggest publications