Sign up for the Maximize Your Audience Engagement Webinar!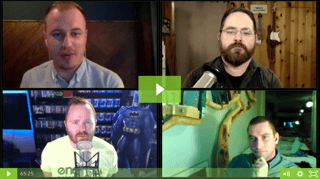 Endless, Slido, and Catchbox, the industry leaders in audience engagement, are teaming up to bring you a complete webinar on how to maximize your audience engagement at your events!
Together, they have worked with countless events at every level and stage in the planning process. They will share their secrets and tips to getting the most engagement from your audience.
With this webinar you will learn how to:
Use technology to engage your audience from the minute they arrive to days after your event
Bring a new level of energy to your events
Effectively use Q&A and polling without putting your audience to sleep
Make sure you event is successful and sign up for the webinar today!
Meet The Presenters
Will Curran

Founder of Endless Events

Will has worked with large event clients such as Emerald City Comicon, Anheuser-Busch, Color Run, Morton Salt & Uber. From event logistics to business development to technical production, he has a diverse background in growing events and companies.

Juraj Holub

Marketing Manager at Slido

As a public speaker, Juraj evangelizes the importance of meeting design and conversational presenting at conferences such as Social Media Week, IBTM, FRESH Conference, and Eventex.

Timo Kauppila

CEO and Co-Founder of Catchbox

Catchbox is the world's first throwable wireless microphone that encourages audience engagement at events of all sizes. Timo will share his experience and some of the best tips for audience engagement that he and his team learned.

Brandt Krueger

Owner of Event Technology Consulting

Brandt has over 20 years experience in the events industry, has spoken at numerous industry events and seminars all over the world, has been published in many industry magazines and websites, and teaches public and private classes on event technology.

Endless is trusted by the best events
Share this webinar with your friends!